Podcast for female soulpreneurs growing their business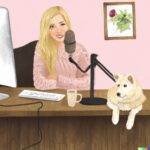 Subscribe to your favourite Podcasting Platform below:
Welcome, gorgeous soul. I am excited to have you stumble upon my new podcast for female soulpreneurs growing their business. So let me tell you a bit about me & my podcast.
I'm a half-Brazilian, half- german healer, spiritual mentor, channeler, space-clearing expert, and the author of two books: "Universe & You: 11 Steps To Co-Create The Life You Desire" and a poetry collection "When A Wild Woman Rises". I have been running my business for over a decade now (after trying out the corporate world for a number of years which left me depleted and burned out on so many levels!)
Since then I came a long way. I am a nomad: my partner, my Shiba Inu pup & I have been on the road for 3 years now. We lived in different countries and have been enjoying a mostly hermity life.
I have been serving women around the world through my 1on1 services, my group programs, my books, and now my newest addition: my podcast for female soulpreneurs growing their business.
What's the podcast all about?
I talk about all aspects of running and growing a soulful business:
– how abundance blocks can interfere with your business, such as past lives and karma, ancestral trauma, negative womb memories, suppressed emotions, limiting beliefs and fears, and negative energy in your space. (space clearing case studies)
– I will give aligned strategy tips
– We'll dive into mental health for female business owners
– and all things healing and grounded spirituality
I'll also be interviewing guests on their expert topics to bring you a variety of amazing tips and tricks.
featured Episodes:
Listen on Youtube
Episode 1: 3 Steps To Manifest A Wildly Abundant Business in 2023
I share my 3-step process and you'll have access to a freebie I created:
a journal & recorded meditation to access your higher self for inspiration and guidance.
Click here to receive it.
Listen on Apple Podcasts